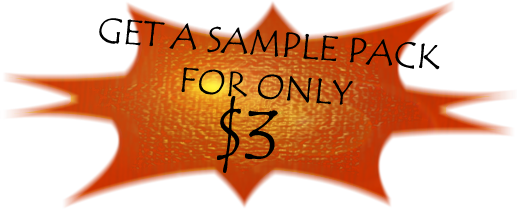 (Plus .50 S&H)
Money back garuntee!

Sample Packs include a 25 gram container of each KARR'Z Sunset Sauce flavor (Mild, Hot & XXXHot)and a complimentary packet of KARR'Z Fine Dry Rub!
Whether its for you, your family or your employer, KARR'S Sample packs make a great and affordable gift!
If you love flavor of the sauce then order a whole bottle, or take the card recieved with your sample pack and take it to your local grocery store and REQUEST THE SAUCE!
Delivery should take 10 to 14 days and $1 from every sample pack sold will be donated to help veterans with Post Traumatic Stress Disorder and Traumatic Brain Injury.
All around, A gift in good taste.
Includes $5 S&H

Get a 12 ounce bottle for $5 and $5 in shipping!

-or-

Get a case for $60 and $20 in shipping! SAVE $40 and buy a case!

Includes $20 S&H
$1.00 from every bottle sold on this site will be donated to a Veteran's Organization!
Money back if not completely satisfied.
Please allow 3 to 4 weeks for delivery.
If you would like to request that your local market start carrying Karr'z Sunset Sauce, then print this pre-made request form! After printing it, sign your name and bring it into your local market!
Let them know you want the sauce!