The Story of The Sauce
William Jeff Karr began making "the sauce ' in 2005.  It began as a lunch for co-workers to celebrate the coming of the New Year.  He began with a few simple ingredients out of the pantry and what came of it has been truly amazing.  Since 2005 the demand for KARR'Z Sunset Sauce has grown and prompted the building of a new enterprise to manufacture, market and distribute gourmet food products the world over.  With taste tests conducted in more than 15 states the overwhelming majority of people who tried KARR'Z Sunset Sauce say "It's the best sauce I have ever tasted."  And so KARR'Z is gearing up to bring this tasty sauce to market.  And with a portion of the profit of each bottle sold donated to help others in need, you know that when you buy KARR'Z Sunset Sauce you not only get a great tasting sauce you are helping to build a stronger community.
 
Q- How did you come up with the name?

A- The name Sunset Sauce came out of a time in my life that contained some intense and major changes.  I saw the benefit in the changes and recognized the sun was setting on a period of my life and was rising on another.  Ever changing and ever beautiful, I realized that just because of my limited perspective I don't keep in mind that the sun is setting 24 hours a day, 7 days a week, regardless of the weather.  Just because I am not in a place to see it doesn't mean it doesn't exist.  Sunset Sauce was born.

BIOGRAPHY
William Jeff Karr, Founder and President of KARR'Z Incorporated, leads a team providing all aspects of logistics in manufacturing, distribution, and marketing.  Qualified through years of restaurant, management and professional experience, Jeff is no stranger to satisfying the needs of the consumer. Having spent 19 years in customer service industries developing team management, conflict resolution, contract negotiation, budget analysis and tracking, as well meeting deadlines and operating within profit margins.  Before founding KARR'Z Inc, he worked for a diverse range of organizations, including a family owned auto repair facility, franchise and privately owned restaurants, consumer sales as well non-profit organizations.  Jeff's varied background in his work experience provided the perfect foundation for developing the logistics and management aspects of KARR'Z.  Passionate about the future and its possibilities, Jeff provides the vision and direction that help effectively develop the business associations that will allow this company to succeed.  To contact Jeff email wjkarr@karrz.net or go to www.karrz.net.

Chad Blanchet, Founder- As an OIF war veteran feeling the effects of service and seeking healing and respite, Chad found his way to Humboldt County hoping to discover some peace and comfort.  He met William Jeff Karr and quickly found an opportunity on how he could help others.  A continued supporter of the vision of KARR'Z Inc, Chad hopes to one day see the fruits of his labor turn into opportunity for other veterans who have paid the highest price imaginable to protect the freedoms of the people of this great nation.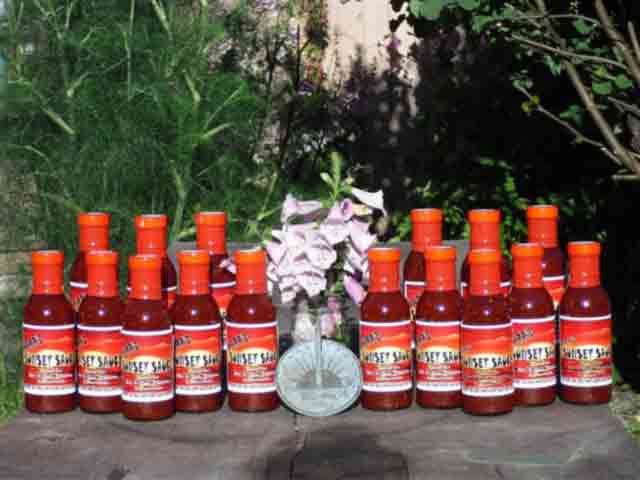 Featured below is a picture of what a Karr'z Sunset Sauce bottle looks like today.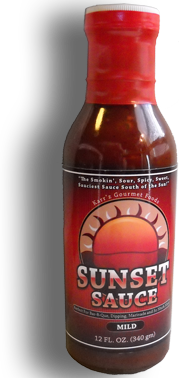 Looks tasty, right?